Patient Education
We feel patient education is very important and recognize that the best treatment option differs from one individual to the next. Our goal is that you are completely informed concerning your condition, your options for treatment, and any treatment to be performed. We encourage you to voice any questions you may have.
Patient Safety
We fully adhere to professional standards of cleanliness, sterilization, and radiation control. Our staff are likewise knowledgeable on the latest techniques.
Sterilization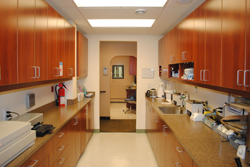 We know that preventing the spread of infectious diseases such as AIDS, herpes, hepatitis and even the cold virus is critical.
Thus, we have designed our facility to the highest standards with patient and staff safety in mind. In order to maintain our rigorous standards, we have voluntarily hired a service to evaluate all aspects of safety in our practice every year. Additionally, our sterilization units are tested weekly to ensure compliance with industry standards. Feel free to ask to see our certificates of compliance.
Premedication
Patients with certain medical conditions (e.g. valvular heart conditions and artificial joints) are required to premedicate with antibiotics prior to treatment. We require this with your safety in mind. Please notify us if you have been informed by your general dentist or physician that you require premedication.
Post-Treatment Instructions
After treatment, home care and medication instructions will be thoroughly explained. For your convenience, you will also be given printed instructions following surgical procedures.
Patient Comfort
We go to extraordinary lengths to ensure our patients are as comfortable as possible during dental procedures. Please click here for more information on this topic.
Special Equipment
We continually integrate proven technologies into our practice. Below is an introduction to some of the advanced equipment we use:
Digital X-Rays (Dexis®)
Digital X-Rays are taken with very low radiation and have more flexibility in terms of rendition. The imaging software allows us to modify, contrast and utilize features such as magnification and measurements to maximize interpretation.

Soft Tissue Laser (SIROLaser)
Soft tissue dental lasers make precision cuts in gum tissue, eliminate bleeding at the site and reduce healing time. Dental diode lasers are used to treat periodontal disease while minimizing patient discomfort.

VELscope Vx
The VELscope Vx uses blue-spectrum light to find oral abnormalities. Healthy soft tissues flouresce in specific patterns, and illuminated by the VELscope, any change can be easily detected before it is visible to the naked eye. Finding these abnormalities are important in the battle against oral cancer. Early detection through VELscope can potentially save lives.



The Wand
In the past, injections of dental anesthesia by others may have been uncomfortable. We recognize this and take extra care when preparing a patient for anesthetic. We use a topical anesthetic on your gums first to desensitize them and use The Wand, a computer driven system, to administer the injection very slowly a4nd precisely to create a truly comfortable experience.

Piezosurgical Osteotome
Pieziosurgery utilizes controlled three-dimensional ultrasonic vibration to precisely shape bone, but not soft tissues. This technique is ideal for delicate procedures, such as periodontal surgery, bone augmentation, sinus grafts and ridge augmentation. It allows for more precision, faster healing, and less invasion.

SimPlant™


SimPlant™ is computer 3-D imaging software that enhances the ability to treatment plan your implant care. This 3-D imaging gives us a more complete picture of the quality and quantity of your bone support making it possible for us to better determine the ideal location for your dental implant.

Cone Beam Scan
Cone beam scanning is an x-ray imaging technique that has become the new standard in surgical planning for implants. It can image both hard and soft tissues, and creates precise 3-D models of the structures. We routinely utilize the services of a company that not only provides us with exceptional images at low radiation doses, but provides a detailed report from a medical radiologist.


Growth Factors
Growth factors stimulate cellular growth. We use growth factors to promote the formation of bone and accelerate the body's natural healing ability. They may be used to re-grow lost jawbone due to periodontal disease around natural teeth, to prepare a site for implant placement and as an adjunct to sinus grafting.

Magnification Loops
You may have seen a magnification loop in a jewelry store when the jeweler was closely examining a diamond. Dental magnification loops are made for periodontists to view your teeth and gums in minute detail during periodontal procedures. It is not uncommon to see our doctors using magnifier lenses to enhance visualization.